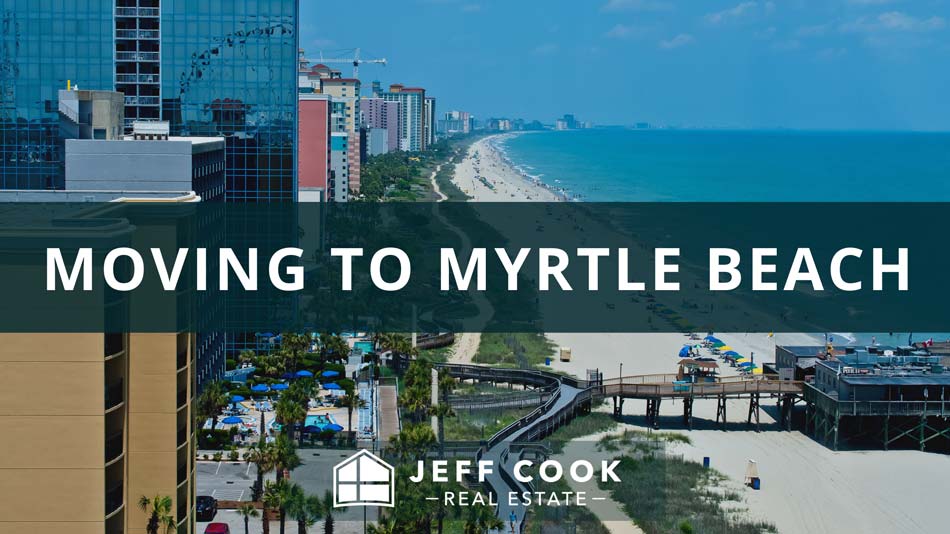 Moving to Myrtle Beach: Myrtle Beach, SC Relocation & Homebuyer Guide
Host to lush beaches, beautiful ocean views, and a number of exciting attractions, it's easy to see why people are attracted to Myrtle Beach. Myrtle Beach is a coastal city located on the East Coast of the US that serves as a popular vacation destination, with its 60 miles of white-sandy beaches known as 'The Grand Strand' attracting millions of visitors a year.
Myrtle Beach has a growing reputation as a business hub due to the relatively low cost of living and a superior lifestyle offering entertainment and recreation options for all tastes. With plenty of family-friendly activities, shopping, historical attractions, and fine arts, as a new resident, you'll find that Myrtle Beach is a one-of-a-kind destination to live and explore.
Myrtle Beach Cost of Living
A big attraction for those who relocate to Myrtle Beach is the cost of living, which is 7% lower than the national average. Transportation expenses and gas prices are 8% lower than the average, while utilities run an average of $198.34. Although food and groceries run 3% above the national average, health care is on par. When compared to living in Columbia, you will find only a 0.6% difference in the overall cost of living.
The area boasts swathes of hotels, resorts, homes, and vacation condos along the oceanfront, the coastline making Myrtle Beach area a popular place to invest in real estate. According to Realtor.com, the median home value in Myrtle Beach is $199,900 and the median price of homes that have sold recently is $185,000.
For someone looking to relocate to Myrtle Beach, a studio apartment will run between $709 and $2,800 monthly, with an average rent of $1,255. Renting a larger apartment is slightly more with the average rent for a two-bedroom running at $1,284 and for a 3 bedroom $1,441. Renting a home is comparable to renting an apartment, averaging around $1,200 per month.
Myrtle Beach Job Market
The median income for a household living in the city is $50,173, while the median income for an individual comes in around $39,006. The economy is dominated by the tourist industry, providing jobs in abundance to serve millions who visit the area each year.
Myrtle Beach and North Myrtle Beach are quickly becoming a global hub for businesses. Due to its location between the port cities of Charleston and Wilmington, it's currently home to 25 international companies. Additionally, the low property taxes and affordable electricity rates make the cost of doing business in Myrtle Beach affordable.
Myrtle Beach has been touted as the second-fastest-growing metro area in the U.S. The state is ranked number three for business, with Horry County also ranking in the top five for workforce development programs. Because Myrtle Beach is a popular tourist destination, it has attracted national hotel chains such as the Marriott International and Hilton Worldwide Holdings.
Top Employers
Key industries operating in the area include aerospace, healthcare, technology, manufacturing, and maritime ventures. There are also a number of corporate headquarters in Myrtle Beach, with investments both internationally and within the US. The top industrial employers include Conbraco Industries, Inc., New South Lumber, Precision Southeast, Inc., UFP Mid Atlantic, LLC, and Metglas, Inc. These employers provide jobs for residents, along with competitive wages and opportunities that help strengthen the region's economy.
The hospitality industry is the biggest industry in Myrtle Beach, employing 27.4% of the workforce, followed by 13.6% in retail, 9.6% in health care and social assistance, and 9.1% in construction. Accommodation and Food Services account for 26,485 people employed, retail accounts for 24,245 employed and health care, and social assistance 15,021 according to the Myrtle Beach Economic Development and US census data.
Popular Industries
Horry County's popular industries span education, government, healthcare, manufacturing, and more. With its positioning halfway between New York and Florida, and with its infrastructure equipped for air, sea, road, and rail travel, Myrtle Beach has had great success in enticing businesses to the area for its ease in importing and exporting goods.
Things to Do in Myrtle Beach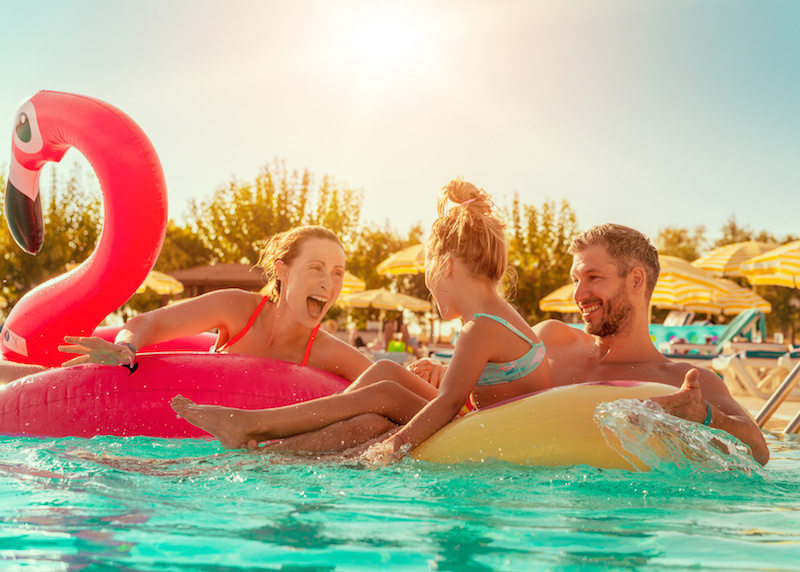 In addition to the beautiful beaches, the fun in Myrtle Beach extends beyond the ocean to thousands of activities and attractions in the area. There is an abundance of things to do in Myrtle Beach, from golfing to watersports, amusement parks, adventure parks, museums, entertainment centers, and shopping.
Beaches
Myrtle Beach is synonymous with its magnificent beaches. In addition to the silky white sand that adorns the oceanfront, the Grand Strand offers a variety of activities with plenty of opportunities for fishing, sailing, surfing, swimming, and sunbathing.
Myrtle Beach Favorites
If swimming, fishing, and sailing aren't your thing, Myrtle Beach has plenty to offer in museums, galleries, and beautiful parks and gardens. Brookgreen Gardens in Murrells Inlet is a combination history museum, art gallery, and zoo, winning it the prestige of being one of the top 10 public gardens in the U.S. For those who love the outdoors, take a hike in the Waccamaw National Wildlife Refuge, or enjoy a day fishing at Myrtle State Park.
Whether you are enjoying the cuisine at any one of the most popular restaurants in town or taking in a movie at the beach, Myrtle Beach offers lifestyle options to suit everyone.
Restaurants, Breweries, and Bars
Whether you're looking for the best burger in town, fresh seafood, or a diverse range of cuisine, you'll find it along the Grand Strand. Broadway at the Beach is an entertainment and dining hub with over 50 restaurants and bars. Myrtle Beach has a number of popular restaurants located along the waterfront. Choose from a fine array of international cuisine, including Chinese, German, Indian, Japanese, Thai, Greek, Mexican, Italian, and Greek.
Visit an incredible array of restaurants, breweries, and bars, which offer everything from mouth-watering steaks to scrumptious seafood, gourmet pastries, and delicious coffee. Relax during lunch, taking in the ocean's natural wonders, and then, in the evening, opt for either gourmet dining or a more casual dining experience in a buffet or steakhouse.
The Market Common is an area where you get to experience exceptional shopping and dining in a beautifully-designed village setting. Strolling along tree-lined avenues, you'll find a selection of the nation's largest and most celebrated names in retail alongside one-of-a-kind boutiques.
Nightlife
If you are a music lover, you won't want to miss the Carolina Opry or the famous Carolina Country Music Festival. If you love classical music you will want to enjoy concerts by the Long Bay Symphony orchestra. Seeing a live band at the House of Blues is extremely popular with residents and tourists alike.
Myrtle Beach is a hotspot for live music and shows: experience the best in shows, whether its celebrity concerts, dinner theater, dance, music, comedy, or movies, you will never want for something to do.
Myrtle Beach Climate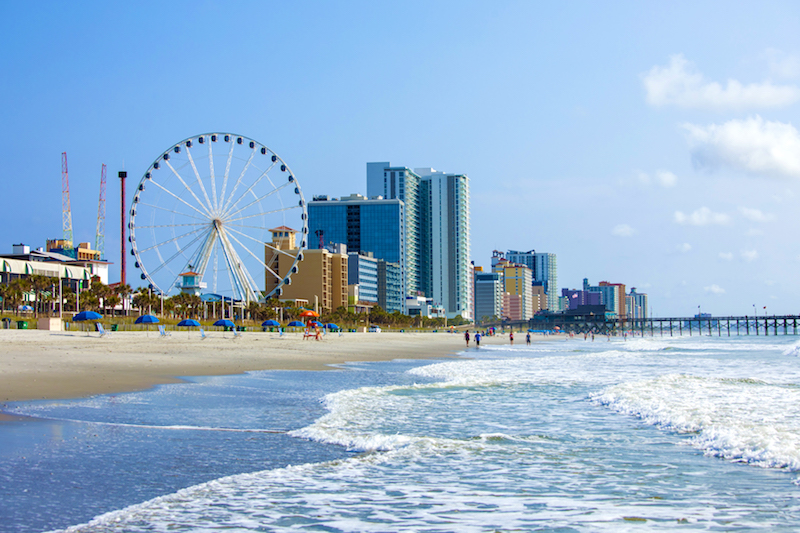 What's not to love about the climate in Myrtle Beach? With a humid subtropical climate, the city enjoys more than 2,800 hours of sunshine a year. Average daytime highs during the summer range from 83 to 91 degrees, while evening temperatures average 70 degrees, making the evenings very pleasant.
Winters in Myrtle Beach are mild, a welcome reprieve for those who dislike the cold. Average daytime temperatures in winter range from 57° to 61° F over the course of December to February, and snowfall is very rare.
Springtime in March–May and the fall months of September–November are normally mild and sunny, with highs in the 60s and 70s. Summer lovers can soak up the sun from April through late October. Those who love to swim will enjoy late summer on the beach most, with August offering the warmest seawater around 82.9° F.
Although the region attracts brief summer thunderstorms, tornados are very rare. The odd tropical cyclone impacts Myrtle Beach, with weaker tropical storms happening more frequently. The average rainfall in September is 8.4 days, making this the wettest month of the year.
Myrtle Beach Traffic
Naturally, during the peak vacation season and holiday weekends, access to Myrtle Beach is likely to become congested. However, Myrtle Beach officials have taken time to develop the city's infrastructure, and there are a number of transit options to choose from. The Carolina Bays Parkway (S.C. 31) is a six-lane scenic highway that takes you from S.C. 9 to US 501 near the Myrtle Beach Raceway. Ocean Boulevard and Kings Highway, commonly known as Business Hwy.17, runs north and south along the Grand Strand parallel to the Atlantic Ocean. The Highway17 Bypass is the Grand Strand's westernmost route to and from downtown.
To help understand traffic patterns at any given time and point, accessing live traffic updates can guide you through access in and out of downtown.
Once you arrive in Myrtle Beach, finding your way to the Grand Stand is easy. Located between Kings Highway and the Ocean, from 29th Avenue South to 31st Avenue North parking meters are reinstalled and come into effect from March 15 through September 30 and enforced between 9:00 am and 12:00 am seven days a week.
Alternative Routes
If traveling by highway, Myrtle Beach is a mere 67 miles southeast of Florence, SC, 94 miles northeast of Charleston, SC, and 74 miles southwest of Wilmington, NC.
Harrelson Boulevard offers a new access road to the Myrtle Beach International Airport from U.S. 17, while the Robert M. Grissom Parkway, a four-way highway that runs from 62nd avenue to Harrelson Boulevard near the Myrtle Beach International Airport, provides a bypass through central Myrtle Beach.
Myrtle Beach Public Transportation
Getting around Myrtle Beach is simple and quite intuitive. The Grand Strand's vast infrastructure of roads easily connect Myrtle Beach and Horry County to the rest of the US Eastern Seaboard.
For those who fly, Myrtle Beach International Airport is served by eight major commercial airlines. There are also three other airports nearby in the cities of Florence and Wilmington.
Mass transit in and around Myrtle Beach is served by the Coast RTA and the Pee Dee Regional Transportation Authority. Local bus services connect the area with regularly scheduled bus services 24/7 for 365 days a year. The Coast RTA operates nine fixed routes that service the Waccamaw Region, including Myrtle Beach, Surfside Beach, Georgetown, and Conway.
Like with many other cities, public transportation in the Myrtle Beach area includes taxis, buses, shuttles, and ride services that provide transport to and from the airport. Many hotels provide a shuttle service from the airport, while UberX provides a low-cost ride service in and around the Myrtle Beach area.
Myrtle Beach Schools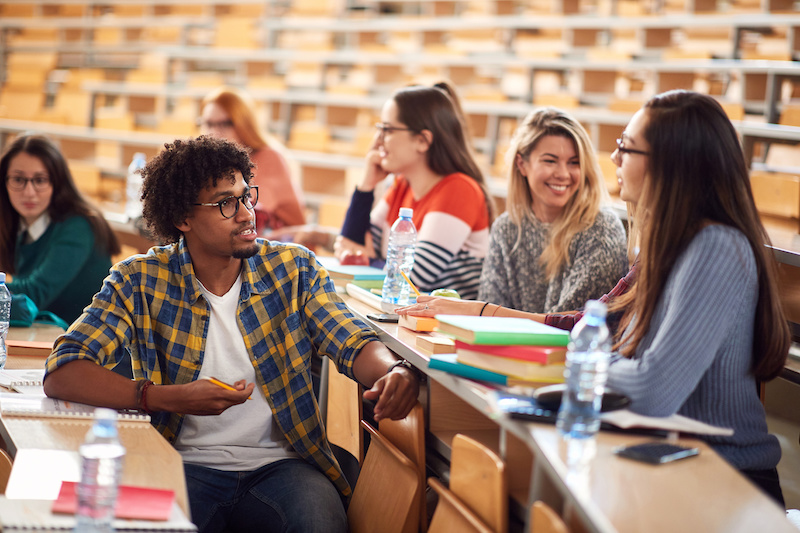 For households moving to the area with children, Myrtle Beach offers 49 preschools, 24 elementary schools, 16 middle schools, and 11 high schools. There are 4 charter schools to choose from, along with 42 private schools.
Coastal Carolina University is the largest university in the Myrtle Beach area and is a state-supported, liberal arts university. The university owns part of Waties Island, a 1,105-acre barrier island which serves as a natural laboratory.
The Myrtle Beach metro area houses the Golf Academy of America, the Myrtle Beach Campus of the Palmetto School of Career Development, as well as the Horry-Georgetown Technical College, Miller-Motte Technical College, and Webster University Myrtle Beach Campus.
Find Your New Home in Myrtle Beach
If you are looking for a new place to live that encompasses southern hospitality, charm, history, and an exceptional quality of life, Myrtle Beach is the right place to choose. The town has morphed into a robust metropolis close to the beach, with restaurants, shopping, and entertainment alongside a 7% lower cost of living compared to the national average.
With affordable real estate, low property taxes, great schools, and competitive wages, you will be proud to be part of a growing and thriving region. Why not plan a trip to Myrtle Beach today where you can discover for yourself all this city has to offer and find out for yourself why over 30,000 permanent residents call this home?